Inflatable Life Jacket Automatic Red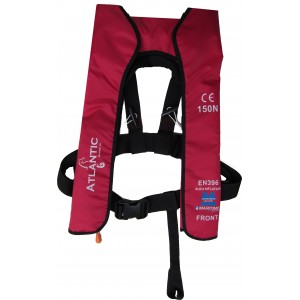 Display all pictures
Atlantic Marine Automatic Life Jacket Red
Double strapped back harness
150N
Automatic Self Inflating Life Jacket
Double Back straps for added security
Jump strap to help prevent the jacket slipping over the wearers head when entering the water.
Crotch straps can be fitted, sold seperately.
Suits Body Weight of 40Kgs and above
Suitable for use by persons on board NZ pleasure craft operating in all limits
Approved by Maritime AuthoritNew Zealand Cert No. LSA/ILJ2001/9
Meets International standard EN396
Foldout style for easy maintenance and improved flotation stability.
150N Bouyancy
Automatically Inflates in under 5 seconds when immersed in water
33gm CO2 Cartridge, replaceable.
Paper bobbin auto trigger mechanism, replaceable
Manual inflation tube
Safety Whistle
Double back strap harness foe extra security
Neoprene collar for increased comfort